Written by John Goldsmith
Directed by Don Chaffey
Guest Starring Vladek Sheybal
Harry is met at the airport by a man called Heller. To be sure he is Rule, Heller sets up a fight as proof. Then Harry is taken by car to a mansion, fortunately followed by Paul and Caroline. A millionaire named Bela Karoleon wants the Protectors to break his brother out of jail. Eventualy Harry is convinced and his brother escapes. But he tells Harry interesting facts about the secret life of Bela Karoleon...
Vladek Sheybal is better known for his work in James Bond and Anderson's previous series, UFO. The episode itself is very good. A perfect way to follow up 2000ft to Die. However, Bela's theory about fingerprints doesn't hold water. Although HIS prints aren't on file, his brother's probably are since he's been in prison some time. This appears to be the same helicopter that appears in the title sequence. That particular shot (from the titles) was lifted from the Bond movie, From Russia with Love.
WALLPAPER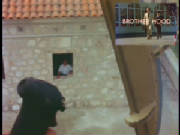 SOUND